The Best Methods to Welcome New Members Into Your Nonprofit

Briana
The first month of membership is vital to retain your members, and welcoming them is an essential step. This does not only include your welcome message, but how you can personalize exchanges, and how to initially involve your members with your organization.
Combine this with powerful membership management software and you will be keeping members for the long haul!
In this article we will cover:
Let's get started!

Introductory Communication
The first step to welcoming aboard a new member is your first communication with them. This is usually done by email, phone, and/or mail is an integral part of your overall membership communication plan. The key to all of these channels is personalization.
Emails
Email is a popular communication channel because of its ease. Emails can be customized and sent automatically to a member after they sign up. Usually, your welcome email should contain a confirmation of their payment, a thank you message, and any information that is important to the user. This is an excellent opportunity to make a great first impression and generate excitement among your new members!
The welcome email should be in your member's inbox no later than two hours after they have officially joined. Otherwise, they might wonder if their membership went through, or worse, feel neglected and think that they made a mistake.
Depending on the conditions of your membership offer there is different information you need to communicate to your new recruit.
If your nonprofit has a separate portal for members, you should include information about how to log on to the portal.

If membership includes private information about the nonprofit, you will describe how they can access this.

If your membership includes events, you will include a link for them to find the schedule of events.
Pro Tip: Don't forget the subject of your email! If this email contains important membership information your members will go back and search for it. Make sure you include some warm keywords in the subject line that will make it easy for your members to find later. For example: "Welcome to Our Nonprofit! Here is Everything You Need to Know."
Personalization of emails is essential because it will automatically associate your members with your organization. It will make them feel like you care about them, and that their role is recognized.
Customization of your emails is just as important as the content. To do so, harness the power of your membership database to use the customized fields that your email service offers to fill in the information automatically (ex: First Name). You can also add other helpful fields depending on your membership plan. For example, if your membership is dedicated to networking, you can include information about their sector and when the next event is for this sector.
Another important part of sending emails is the "From" field. No one wants an email from a robot, so be sure that your email is coming from an actual person even if this person isn't sending the emails out. Let us explain.
In general, someone that sends out large batches of emails is part of your marketing, development, or outreach team, not necessarily your membership expert. If this is the case for your organization, you probably do not want those people answering potential questions your members might have. Be sure to have the sender be who you want your members to contact if need be. This person is usually the officer in charge of membership at your association.
Want to dive even deeper? Great! Send the first email with basic info (ex: how to connect to the member portal), but follow up a few days later with a completely customized message.
This second email could contain the information they previously filled out, but also ask them about themselves, their families, or work, what they hope to get from this membership, and how you can make that happen! The goal here is to get to know the member so that later you can have even more personalized communication.
Calls
To hit the personalization jackpot, a call is the way to go! Your new members will be pleasantly surprised to receive your call, and definitely won't be doubting your commitment to them.
In its simplest form, this call would come after receiving a notification that someone has become a member, and then immediately calling them to say thank you and explain the next steps of the process.
Depending on the size and resources of your organization, this may or may not be possible. We will cover all of the possibilities.
For example, your organization may have too many people signing up to be members, or you could be so small that you don't have someone to call these people. Let's talk solutions:
Have someone dedicated to membership management in your organization. If your nonprofit depends on its members, we recommend that you do this. This person can be a long-time volunteer, an elected member, or one to several employees (depending on the size of your organization). Not only does this position allow your nonprofit to make personal calls, but it will help you manage ongoing engagement later on.

Have these notifications sent to an entire team of people, and the team members take turns calling individuals to welcome them. This option is great if you don't have the budget for one person dedicated to membership, or they don't have the time to call everyone. If your teams don't have the time for this, you can enlist volunteers to help!

If you are a large organization with local chapters, you could create a field on the membership form that automatically attaches the profile to a chapter, and the chapter calls the new member. If this is the case for you, be sure to communicate this process with your chapters so that everyone is on the same page.
Mail
The last form of communication is mail. Although this is a great option, we don't think this should be your sole form of communication, but more of an accompaniment.
Even if your organization has older members, chances are most of them are able to use email and phone. However, they will appreciate a nice official letter that states a confirmation of their membership within your organization. I mean, when was the last time you got a letter in the mail that wasn't a bill?
If your organization needs to keep track of members by having membership cards, you should also be including that with a letter. These cards are useful when members have membership ids that you can scan for events, or if they need to show proof for certain benefits they may enjoy.
If your organization is exclusive with its members, or if it is dedicated to social or business purposes, you might want to send an official certificate. For example, if your organization is focused on networking for a certain sector, or if you are an exclusive organization that provides further education to individuals, you might consider these certificates so members can hang them on the wall in their office.
If you are a social organization that has had members for several years, you could provide these for members to keep for memories. Little touches like this do make the difference, and your new member will be happy to receive physical proof of their membership.
To sum it up, mail is a great addition to the other welcoming strategies mentioned above to give your members a physical keepsake that proves that they are a part of your organization.
While all of these communication methods will help to welcome your members and collect important information about them, it means nothing if you don't have the ability to properly store this information.
At Springly we can store membership information that automatically connects to your CRM so that it is always up to date. Schedule a demo to learn more!

Welcome Kits
Welcome kits are beneficial because they show the member that you care about them while giving them all the information they need to be an active member of your organization. These kits can be printed and sent by mail or given in person, or virtual and sent in PDF form by email.
Pro Tip: Always send documents in PDF form to avoid having them changed or copied without your approval.
Depending on what your membership program includes these will be different for every nonprofit organization. Generally, they include things like your impact report or annual report from the previous year, a brochure with membership information, a welcome letter, and some goodies like magnets, keychains, stickers, or a t-shirt or water bottle.
If you want to go for a digitalized packet, you can also do that in combination with the email option above, and for goodies include a link for the member to order and have the item shipped to them (if you do offer this option be sure to have free shipping and a discount code to make sure that their "purchase" is free).
If you can personalize this kit, you should! A great way to do add value and make your organization stand out is to use information gathered from emails or phone calls. Once you find out some personal info about them you can include this in their welcome letter.
This info can also help you decide if you should send a physical kit or opt for the online version, or what goodies to include. For example, if someone is very eco-conscious, you should send a virtual kit and give them a direct link to a reusable water bottle. If you are going for the online version, don't hesitate to use information from the form that they filled out. If you know this is your plan from the start, be sure to add some of these fields in your membership form, such as t-shirt size.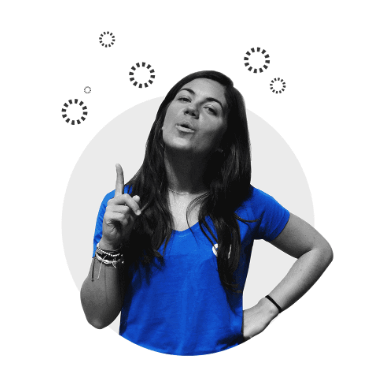 Sonia has seen how personalization can make new members feel appreciated!

Initial Engagement
Just as your initial communication is vital to determine your members' relationship with your organization, so is your initial engagement. What we mean by initial engagement is your first effort to involve members in your organization.
You have already welcomed your member, but it is vital that you do not just drop off the face of the earth after the first communication. You should continue communication after the welcome message, otherwise, members might face buyer's remorse. They could have reservations about your organization, or decide to disengage.
Ongoing Communication
For the first month of membership, your organization should be in constant contact with your new members. If your nonprofit has many members coming in each month at different times, this might seem like a daunting task. Don't worry, we have a solution for you!
In this case, we recommend that you send out a set, or sequence, of emails that will allow the members to have all the info they need to be involved.
The first email will be the welcome email that we previously mentioned and be sure to include the contact info of someone they can call or email if they have questions, as well as their first taste of your company culture and brand!

After a few days, a second email should be sent. If your members are highly involved or have weekly meetings, it should be after one week at the latest. This communication should ask them about their time spent with the organization so far and information for the events happening in the following weeks.

The last email in this sequence should be after the first month and needs to ask for some form of feedback. You should ask members if they are happy with your membership plan if they know where to find all of the information they need, and if anything can be improved.
An email sequence like this will set you up to save a lot of time, but the data you get back is also a great indicator of success. You can send out these emails manually, but we highly recommend using an email marketing tool to do this for you. You will just need to input the content, sender, receivers, and choose a send date. The rest is done for you. This will save your employees or volunteers a lot of time and is a great return on investment!
It is important to remember that this communication doesn't need to be through email. If your organization uses network messaging tools like Slack, WhatsApp, or Facebook, opt for that. You can even create groups for all the new members, and post this in there so that members can also chat with each other about their experience.
Events
Events are a great way to bring your members together and to connect with members of your organization. This will be vital for them to see the faces behind the names. Especially if you are a larger organization, you never want your members to feel like they are just one of the many. Personal connections make all the difference and can increase membership ten-fold, and events are the perfect opportunity for this.
If your organization has new members coming in all at once, we recommend hosting events around this time. The events don't need to be extravagant, but can be as simple as a virtual coffee break.
The reality is that most organizations have members coming in at different times, so we recommend hosting these kinds of events monthly. You can decide if this is a virtual happy hour or a large networking event. The important thing is that your members get to see your organization and connect with other members.
The Buddy System
This is an old but trusted system. The buddy system enables you to connect established members with new members, so they always have someone to contact if they need help. This is a great option if your organization cannot establish someone dedicated to membership.
A common example of this is how college sororities use bigs and littles. They connect a member that has been with the organization for at least one year with new members that are usually new college students, to help guide them through their first year. This is essentially a mentorship program, and your organization can use this same system!
This program should not allow anyone to be a buddy, but those that you think represent your organization the best and would be the most helpful for new members. Unlike a mentor system, a buddy system is not so much telling the new members what to do, but more of checking in on them and seeing how they can help them to be more involved with the organization.
We even use this system at Springly! It helps to integrate the new team members more quickly and ensure that they are happy with their progress.
Pro Tip: Use your nonprofit's software to track when members join and use the emailing function to reach out to members that have been part of your organization for over 1 year to see if they are interested in becoming a mentor.
Conscious Engagement
The last thing you can do to kickstart your membership engagement and get a jumpstart on member retention is to connect new members to your organization.
Think about it this way, even if you create events and members are able to form valuable relationships, is this really the reason that they joined? If your organization is based on networking it might be, so job well done! For most organizations, this is not the case, and your members joined because of, well, you!
They wanted to be a part of your work and part of a mission that contributes to their professional or personal purpose. You must invite these members to deeply connect to your organization in the first weeks of membership so that they feel like they are getting what they wanted out of their contribution.
There are a few ways you can do this. The ones you have probably heard of before are to do a tour of your offices and to have members volunteer for your cause. These methods work well because they enable new members to see what their money is going towards in the office and in the field.
Another great way to get new members engaged is to establish committees that they can join as soon as they officially become members. These committees will vary depending on what your organization is dedicated to, but some examples include event planning, facility management, and social media. Not only do they get to help your mission, but they can put their expertise and professional opinions to good use.
Earlier we mentioned impact and annual reports. These are other options to connect your members to your organization! They can be emailed to your new members to show them exactly what your organization is doing. To take this even further, you can send the member information about how their dues, or membership fee, has helped your organization. Try to give exact numbers when possible.
Pro Tip: Opt for a video message instead! Video is the most effective form of communication, and is the perfect way to show your impact.
Luncheons are an opportunity for organizations that promise information as a part of membership. Instead of just emailing information, now and then extend an invitation to your members for a luncheon to present this information in a more exciting format. You can also include updates on the happenings of the organization, and if membership includes voting rights, use this as an opportunity to vote together.

Congratulations! You are officially ready to welcome new members to your organization! Let us know which of these options works best for your organization, and why. If you have any questions about how your organization can use these tactics, leave a comment and we will be happy to help.
Springly is trusted by over 15,000 nonprofits to help them run their organizations on a daily basis. Try it, test it, love it with a 14-day free trial!
Membership
Nonprofit Management

Briana