What to Include in a Financial Policies and Procedures Manual for Nonprofits (+ Templates & Examples)
Jules
Every nonprofit organization and charity participates in a wide variety of different policies and procedures daily. Most of the time, these actions have become so second nature that they are performed by rote, without even thinking about it.
Yet, you've probably heard that having a policies and procedures manual is important for your organization but figured compiling it will take a while.
After all, who has the time? You, like other nonprofit leaders, are busy and are often pulled in different directions.
Nonetheless, just as a treasurer benefits from a nonprofit treasurer checklist, it is critical to have financial procedures set down in writing and reviewed regularly to find new and better ways to improve how things are done, regardless of the size of your nonprofit or charity. You might even find that processes run more smoothly afterward, giving you back some of that much-needed time.
In addition, we have simplified the development process by providing exactly what you need to include in the manual and are even offering examples to help you get started!
Here's what we'll cover today:

What Is a Financial Policies and Procedures Manual and Why Are They Important?
To answer these questions, it's important to realize why policies and procedures exist in the first place.
First of all, procedures save everyone time because when a process is clear, it eliminates the need for unnecessary back and forth. Being able to efficiently and accurately complete tasks allows more to be completed on any given day, which is great for you and your organization. For example, identifying what should be included in the monthly nonprofit treasurer report template takes the guesswork out for the individual in that position and likely ultimately leads to time saved.
Additionally, procedures are often put in place to provide security and safety for everyone, either immediately, or down the line. Plus, it's important to cut down on situations where people are exposed to circumstances that encourage theft or place a person in a position where they could be suspected of wrongdoing.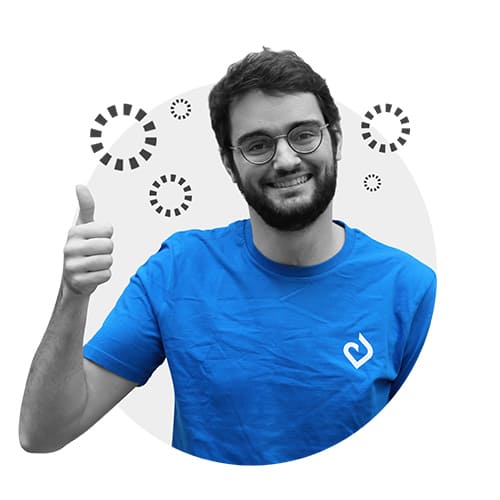 Tristan is excited to learn about creating a financial policies and procedures manual!
Furthermore, nonprofits are under constant evaluation by the IRS and the public in general. There are rigorous requirements both for reporting and properly classifying income and expenses to ensure legal compliance and transparency.
Nonprofit treasurer software can help to keep you on the right track to meet legal obligations. However, a financial policies and procedures manual really outlines the role of different activities in the organization and the official method of performing each of them.
Having a written authority not only helps eliminate confusion surrounding a task but also can prevent risks associated with completing them incorrectly. They can even ensure that different activities are performed in safe ways which meet legal compliance.
Furthermore, having a set of guidelines indicates financial responsibility to potential donors. Similar to bonding your nonprofit treasurer, your procedures manual helps to reduce the risk that things could go wrong. Fewer errors will result than if assumptions were made without policies and procedures in place.
Any organization can benefit from having a financial policies and procedures manual. Given that nonprofit and for-profit businesses alike face issues relating to financial confidentiality and security, having a solid and easy-to-follow set of instructions can make all the difference.
For nonprofits, this document can provide guidelines on proper procedures for performing transactions, recording information, and organizing donation types, which is crucial to acquire all the information needed to satisfy the IRS Form 990 tax documents as well as maintain accurate records.
If procedures are effective, time-saving, and accurate, they will reduce the risk of mistakes and ensure that each department functions smoothly and integrates effectively with others.

What To Include In Your Manual
As you may have noticed, there are two major parts of the manual: policies and procedures.
Policies explain what processes need to be completed and what is involved, while procedures demonstrate the methods for how activities need to be accomplished.
Policies
Policies are a set of principles and supporting guidelines that an organization generates to define goals, define the scope of the organization itself or its members and directors in their efforts to obtain those goals and to protect its interests.
Some situations where policies will help prevent issues and encourage smooth operations include:
Board Member, CEO, and Officer Authority - It is important to prevent power struggles to outline exactly what each position on the nonprofit board of directors has the authority to do in regards to financial actions and decisions. Internal controls and financial accountability for nonprofit boards will increase significantly with a manual in place.

Authority Delegation - Policy for assigning leadership and authority for staff and volunteer leaders regarding decisions, approval, and transactions regarding financial situations.

Conflict of Interest Policies - Guidelines on what to do and how to resolve situations where there are internal struggles or ambiguity which has caused a grievance within the organization.

Spending Authority - Outlines exactly who can spend funds, write checks, or access financial accounts for the organization and in what capacity.

Payroll Policies - Instructions for proper handling of payroll situations, benefits, and accounting processes as well as compensation instructions.

Contracting - Details who has authority to enter contracts on behalf of the organization and what is involved in those situations.

Financial Record Documentation - Guidelines for all aspects of keeping, entering, organizing, and filing financial statements, grants, and other donations.
Procedures
The best procedures are efficient and encourage accuracy while maintaining proper security and confidentiality in regard to finances and sensitive information. Here are some typical procedures which can be outlined in your manual.
Checks - how to receive them and endorse them properly.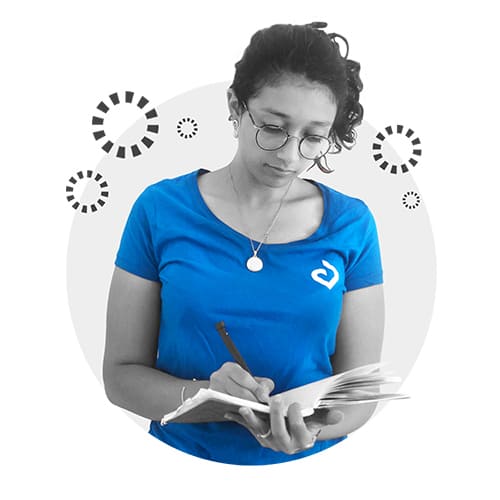 Salma is taking note of what to include in her manual!
Cash - proper handling procedures, documentation methods, and how to properly prepare cash receipts and categorize transactions.

Training - Instructions on how staff and volunteers should be trained regarding financial policies and related procedures.

Financial Authorization - The correct way to open accounts, sign checks, handle credit cards, and methods of following up with financial accounts to reduce security risks and ensure proper usage.

Borrowed Funds - Management of loan and credit card balances as well as any rules involving their proper and authorized usage.

Account Usage - guidelines that cover how to use accounts online and when that is an acceptable practice, as well as uses for petty cash and credit or debit cards.

Prohibited Procedures - Financial practices which are not allowed to prevent employees and volunteers from making errors or violating policies.
Pro Tip: The most important part of producing new policies and procedures is having everyone agree to them. This means that not only should the decision-makers be involved in designing them, but also those who will be expected to abide by them.

Manual Examples
As promised, here are some resources which will give you a head start in the designing of your very own handbook!
You can also investigate the National Council of Nonprofits to seek additional information and resources.
There are plenty of templates and sample policies out there that can make your life significantly easier and helps you better understand how to organize your information.

Springly is trusted by over 20,000 nonprofits to help them run their organizations on a daily basis. Try it, test it, love it with a 14-day free trial!
Jules
Recommended articles
How To Use A CRM For Nonprofits For Better Daily Management
Trish
Communication
Social Media
Marketing
A Comprehensive Guide To Instagram For Nonprofits
Trish
How to Analyze Your Nonprofit Email Marketing Statistics

Danica