Simplify the management of your club, and spend more time in the car.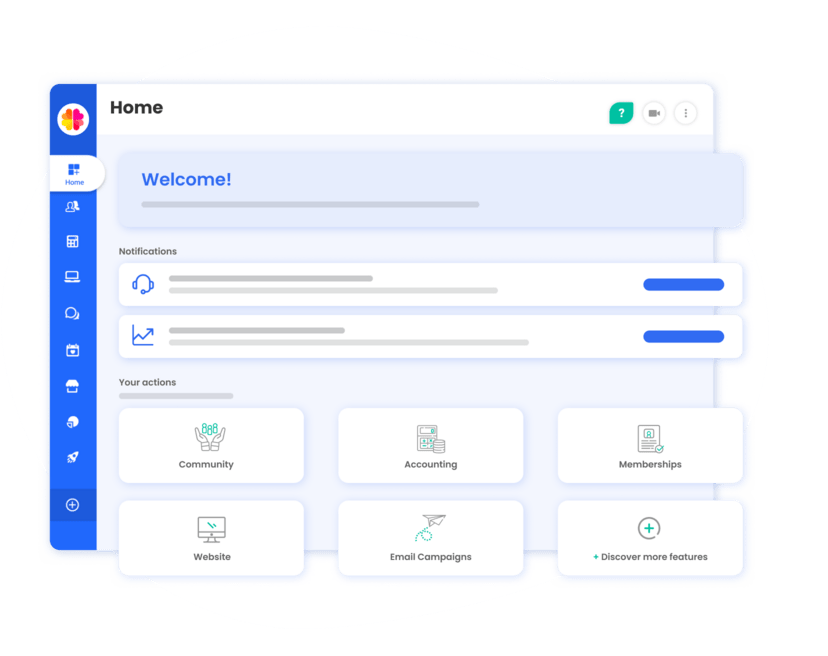 Streamline management for your
car club 
Membership
Membership campaigns can be created in 2 minutes or less. Create a form, customize the information collected, and post it online in one click. With 30+ options, your memberships are as unique as your cars.
Website
Never hire a developer again! With our easy to use drag and drop system, anyone can build a website in 15 minutes or less. Your website is automatically mobile-friendly and 100% customizable with images, videos and all the design elements you need.
Events
Organize events to bring your members together. Car shows, monthly meetings, or track events have never been easier to manage. Sell tickets and scan them at the door for extra organization!
CRM
Our easy-to-use CRM tool allows you to track all of your car club members. You can easily create membership campaigns based on your needs and add contacts to this group. After creating your campaigns, you can view all of your members in your contact list.
Email
You can easily send out email reminders to your members by creating an email campaign and sending it to all members. All you have to do is create the email and select your membership group as the recipients!
Online Store
With our online store software for car clubs you can easily create your own shop that is connected to your website and CRM. From the online store you can manage inventory, ensure secure payment, and send automatic receipts.
Car club membership software,
simplified 
Easy to use membership software
Membership campaigns can be created in 2 minutes or less. Create a form, customize the information collected, and post it online in one click. Customize with photos, PDF's or videos of your choice! With 30+ options, your memberships are as unique as your cars.
Offer a better membership expierence
Promote a better membership experience by moving your subscriptions online. Instead of downloading a PDF, printing it, and sending in a check, they can join your club in 2 clicks. Your members will feel valued and are more likely to recommend fellow car-lovers to join.
Membership rates that fit your needs
Your membership fees are 100% customizable. Enjoy the flexbility of using a car club software by giving individual or group discounts, accepting online payment, or tracking payments by cash or check.
Fully secure transactions
All online payments are 100% secure. All of your transaction information and funds are managed by our payment partner, Adyen. Collect payment online and enjoy the hard work being done for you. With low transaction fees your life is made easier and you can transfer your money to your bank at any time.
Learn more
A website that is easy to
create, use, and maintain 
No tech skills required, ever
No coding reqiured. Get started with customizable design templates or use our drag & drop system on a blank page. Enjoy complete design freedom without the hassle of coding or complex composition.
Private pages for your community
Do you want to keep certain information private to your members? No problem. You can set up private pages on your website that require a login and password for complete exclusivity! Post important information on membership renewal, discount codes for members, or the latest car sale in your area.
Automate integrations
Publish your membership campaigns, events, blog, and calendar on your website in one-click. All of Springly's features integrate together for ease of use, therefore updating your website is a breeze! No need to worry about updating information on your membership campaigns and your website, it is all done automatically for you.
Learn more
Organize events for your car club with a
simple software 
Custom ticket sales from A-Z
Create custom ticket prices, limit the number of participants and add images. You have everything you need for your club events, customizable to each need. Want to create members-only events? No problem. Discounts? That too! Pricing is 100% personalized to your organization.
Offer online payment for car shows & track events
Offer online payment for your events. With 100% secure payments through our payment partner, Adyen, your funds are safe and transferable to your bank account at any time. Track payments by payment type or date and refund tickets if necessary.
Manually add participants
Selling tickets at the door? Simply prefer offline payment? Tracking offline payments is possible with our car club software. Record the participants in the database to have an updated list of participants. Customize your tickets for printing with a unique number and barcode.
Promote your events
Create an email campaign to invite your contacts to register for your events. Track the open and click-through rates to optimize your content for each event. Want to publish it on your website? Your events are automatically added without any copy and paste required. Remind your members to RSVP or plan ahead for the coming month with a global overview of what is to come.
Learn more
A CRM software

that helps your car club
Add members in 2 seconds or less
To add members to your contacts list all you have to do is import a file of multiple contacts, or add one individually by filling in the important informational fields of your choice! Import from Excel and enjoy step-by-step instructions to make data transfer easy.
Never lose valuable information
Our CRM for car clubs allows you to view important information about contacts like membership history, latest purchase activity, events they have attended, emails they have received, and more! With all of this information you will be able to automate time consuming tasks, like creating email lists.
All of your contacts are stored in one place
Your days of searching through multiple files to find members, donors, and volunteers are over. With our car club CRM software all of your contacts are stored in the same place.
Easily search through your contacts
With all of your contacts in the same place, you can do a quick search to limit this list to the party you are concerned with. You can refine your contact list to broad fields like active members, but even refine by specific details like when members are available to meet. Then, to make the CRM even more useful you can create groups, like a Saturday morning coffee group.
Learn more
Connect with your community

using
our car club software
Communicate easily with personalized email campaigns
Email campaigns allow you to reach a large group of people with the effort of one email! To save you even more time, our car club communication tool allows you to choose a template for your email so all you have to do is add the content. Easily personalize mails to your organization. With just a few clicks you can add your car club's logo, pictures from your last event, and even a link to your social media.
Send out monthly or weekly newsletters
With our car club communication tool you can easily create a newsletter and enroll your subscribers using the group and email campaign tools. Our email templates are 100% customizable so you can include all of the information that is important for your subscribers.
Analyze email statistics
Track open, click, and bounce rates of your emails with powerful statistics. Learn what type of content is the most appreciated by your readers! With this information you can improve your communication over time and become a content expert.
Learn more
Online store software 

for your car club
Diversify revenue for your car club
Opening an online store is an excellent way to add another revenue stream for your club. T-shirts, bumper stickers, or even local cars that need to be restored can not only serve your member activites, but open a new realm of possibilites for growth.
Track & encourage member purchases
Because our online store tool is connected to the car club CRM you can easily track which purchases your contacts have made. This makes it even easier to send them reminders about new products they might like!
Receipts are sent automatically
To make the process even more seamless, users will automatically be sent their receipt upon check out! You can easily personalize the message that they receive to include a special thank you message with their purchase.
Learn more
Need something else?
Springly supports
clubs of all kinds
Springly is the
MVP

for all sports clubs!