Build your school's support network with an all-in-one PTA club management software
Simplify the management of your club, and spend more time with the kids.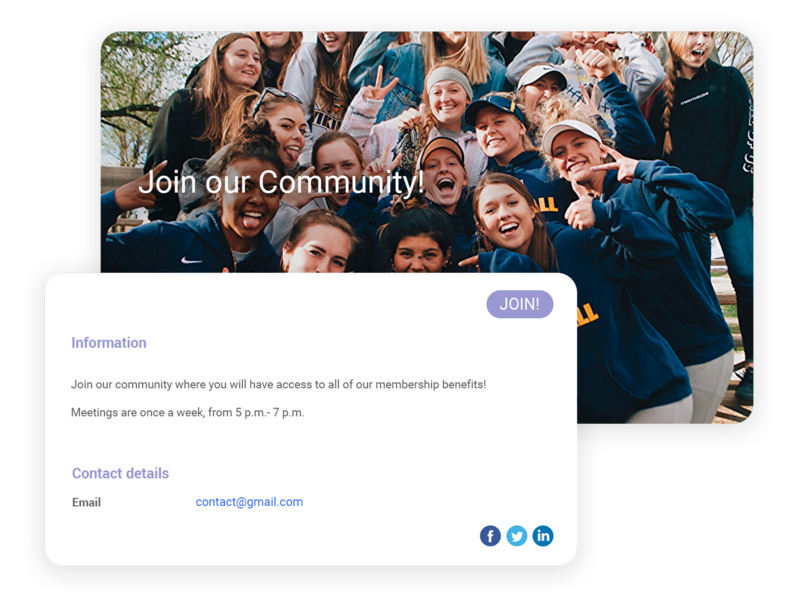 An all-in-one membership
software for your
PTA 
CRM
Centralize all of the information on your community in one place. With a CRM that is 100% customizable to fit your unique needs, you save not only time but resources to put back into what matters, your mission!
Membership
Membership management is made easy with Springly's PTA membership software. Offer online memberships, payment tracking, and automatic follow-up with each member.
Events
Manage events from A-Z. Create your special event in 2 minutes, offer online registration and payment, scan tickets at the entrance, and follow-up with parents before the big day.
Website
Showcase the highlights of your club with a modern website. Use our no-code website builder to directly publish news on events, membership details, and display photos all in just a few clicks.
Email
Easily send emails of all kinds. With Springly's PTA membership software, email lists are pulled directly from your CRM, so your lists are always up to date with the latest information.
Online store
Generate more revenue for your PTA membership by opening an online store. Offer fundraising resources or additional extras for your events. Manage stock, set delivery fees, and offer multiple forms of payment.
Put the students first with a
powerful CRM 


at the heart of your PTA membership software
Consolidate membership information
Your database of members is accessible any time and anywhere. With a CRM that is 100% customizable to fit your needs, you can find all of the information you need in each contact profile: phone number, age group, location, and more. No more searching through different spreadsheets and paper files!
Refine your search with filters
With all of your contacts consolidated, you can use cross-criteria to find any information you need. Filter your contacts on general criteria like parent-child relationship or more detailed information like membership start date. Contact them in 2 clicks by sending a targeted email. Delegate responsibility and give administrators access to their respective groups to allow parents the freedom to carry out their tasks.
Engage parents with surveys
Send a survey or launch a poll to vote for the best match of the season. By engaging your members with a PTA membership software, they feel a greater sense of community and are more likely to stay members for longer.
Membership made easy

with
an all-in-one membership software
Online membership to save you time
For the start of the membership season, give your school's parents the opportunity to join the club and pay their dues online. For your members, it is convenient. For you, say goodbye to managing petty cash, trips to the bank, and missing checks. Track new and renewed memberships in real-time and enjoy saving time through automated follow-up emails.
Never chase payments ever again
With every financial transaction that passes through Springly, you have precise tracking and follow-up for each payment. Send reminders for missing or late payments directly from your PTA membership software. Receipts and invoices are sent automatically for easy follow-up.
Fully customizable software
Every feature of our management software is 100% customizable to fit the unique needs of your PTA members. Set a maximum number of new members, create automatic discounts for certain groups, create pricing categories, and personalize your payment receipts with your logo and design. By using Springly's PTA membership software you have full control over your club from A-Z.
Building a website

doesn't have to be complicated
with Springly's PTA membership software
Free of complicated tech
With software that was made specifically for PTA members, there are no tech skills required to build a modern website. Simply drag and drop items into a blank page (images, video, text) or begin with one of our 100% customizable templates. With a no-code solution, a powerful and informative website is accessible to all.
Engage parents with extra features
Use the blog to showcase the achievements of your PTA fundraisers. Post the fundraising schedule, send a survey to your members, or publish the club directory to encourage carpooling. Your members can find all of the information they are looking for in one place, and you save time by consolidating information and spending less time answering questions via email.
Automatically adapts to your smartphone or tablet
Your website is automatically mobile-responsive and adapts to all screen sizes: tablet, desktop, or smartphone. Easily consult the website of your PTA membership anywhere, at any time, whether you are buying suppliers for the next fundraiser or hosting a meeting about the school's vision.
Keep parent informed with a
communication 




software

for your PTA membership
Automate your email lists and never use a spreadsheet ever again
The email module is linked to your CRM database, so your email lists are updated automatically. If a member updates their contact information while renewing their membership, there is no need to manually transfer information, at any time. Practical when sending newsletters to parents, teachers, or sub-groups.
Create a newsletter in minutes
Easily create modern newsletters by using a simple drag and drop system with images, text, and buttons. Create the newsletters of your dreams and engage your audience in a new way. Your members will enjoy sharing their club highlights and you will get to share the top moments of the year.
Stay up to date with email statistics
Use Springly's PTA membership software to keep an eye on the open and click-through rates of your email campaigns. Use this information to learn what type of communication best fits your audience and adapt accordingly.
Diversify revenue for your PTA
with an
online store and event software 
Make ambassadors of your community members
Open an online store and use your logo and house colors as a great source of communication, and a potential source of revenue. Use an online store to sell t-shirts, club goodies, equipment, or merchandise. Easily manage stock and set delivery fees with multiple forms of payment.
Organize fundraisers, informative talks, or community events
With Springly's PTA membership software, you can organize any event like talks from external speakers, school fundraisers, raffles, meetings, community volunteering, and more. Create private events for your members and public events to invite your community to come and support the club.
Test our PTA membership software for free, for
14 days 
No credit card required
Start your free trial without any credit card information required. We believe in our try it, test it, love it philosophy where our clients are able to test all aspects of Springly's software before engaging in any financial commitments.
Free product demo
Enjoy a free 30-minute product demonstration with one of our nonprofit development experts. Our team is ready to answer all of your questions, help set up your account, or assist you with data import.
Subscribe with no data loss
With Springly's membership software, you keep all of your data, campaigns, and custom settings when passing from free trial to subscription. Start growing your organization from day one!
Need something else?
Springly supports
clubs of all kinds
Springly is the
MVP

for all sports clubs!