>

How To Choose The Right Nonprofit Software For Your Nonprofit
Trish
As a nonprofit leader, it might be your job to choose the software your nonprofit will use. It is up to you to make the best choice!
We are here to help you with that decision. In this article, we will go over our six most important criteria for choosing a software for your nonprofit.
They are as follows:
Please note: In this article, we assume that you are dealing with several software programs. All of them offer features that meet your needs, but the question now is just how to decide between them.
Let's get started!

Easy-to-Use
While all the criteria we will lay out are important, this point deserves special attention!
The software you choose should be easy-to-use and not require any special skills.
You, your administrators, your volunteers, and other staff members will need to be able to use the software. If it is too complicated, this will be a big problem! Nobody wants a headache.
Even if you or one of your staff members has the skills to master a complicated software, it is still risky. What happens when that member leaves the team?
It is ideal to have a software that adapts to its users, and not the other way around! That is why a simple software should be the goal.
Hopefully, your software will offer different options at different levels, so that it adapts to your organization and to the skills of the people who will use it.
Be careful, "simple" does not mean that there won't be a learning curve! But it should be easy to learn, for everyone. For example, it should be transferable from one team of volunteers to another. Not only will it help save time, your coworkers and volunteers will be more on board to give it a try!
At Springly, we put a very strong emphasis on the simplicity of our software. For example, the donation, membership, and events are all set up in the exact same format. This means, if you can do one, you can do them all!
This makes the software much more user friendly, and any of your team members can learn it!

Budget Friendly
Of course, the budget for software may be limited, so finding the best option for a reasonable price is key!
However, it is important to keep in mind the first point, the simplicity of the software. If a software is free but much too complex for everyone to use, it is best to avoid it.
Let's dive in to see how to find the right fit for your budget:
Does the Software Have a Free Trial or Other Offers?
Most of the time, a software will offer a free trial period which allows you to test out the program and see if it is the right fit, totally risk free.
This is an important aspect to take into account because of these two main points:
You can verify that the software meets your needs

You can check the ease of use, simplicity, and speed of the software

Some softwares also offer some of their features for free, while other more complex features are offered with a fee.
This is typically called the "Freemium" model, and it is common among online software companies.
This model has the same advantages as the free trial period, plus there is the added benefit of complete free access for smaller scale nonprofits that may not need complex features.
Don't forget to be cautious if you choose the "Freemium" route! Pay special attention to the terms and conditions of the offer, so you don't end up needing to switch to the paid version to get all the features you need.
Is the Software Affordable for Your Nonprofit?
When looking at a paid software, take into consideration the price of the software in relation to its functionality when looking at the budget you will dedicate to it.
There are a couple of things to look out for, like price tiers. Many companies, like Springly, have different price tiers depending on how big your organization is. Some base the price on the number of administrators, contacts, and so on.
We suggest that you take a stock of your needs when it comes to the software. Do you need a strong emailing feature, or maybe donation collection? Whatever your needs are, knowing them will help you anticipate the pricing!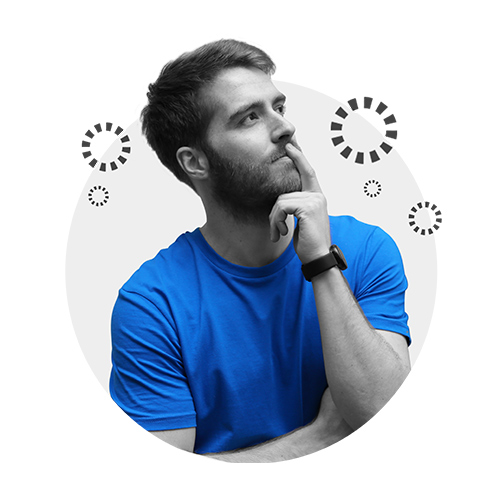 Anthony thinking about what his nonprofit
needs before choosing a software
At first glance, the price of software can seem high, but we suggest you take everything into consideration before making your choice.
Think of the time and resources this software can potentially save you. Put these benefits into perspective with the price of the software to decide whether it is worth it or not.
If your budget is tight, ask the company if they have any partnerships that could help lighten the bill. Being a nonprofit does have many benefits.

Help and Support
The availability of help and support centers is another important factor to take into account when you are making your decision. You never know if you might need it!
If you or a colleague ever gets stuck on your software, having a fast and easily accessible help center will smooth the process and save time.
When you are checking out a software, we suggest that you do some digging to find out what resources are available to you if a problem arises.
Here are a few things you can look for:
Articles, most often a FAQ section, dedicated to guiding you through the different functionalities and give you step-by-step instructions to complete a task on the software

An online chat to help fix an urgent problem

Email assistance that offers a specific answer to your question with screenshots

A phone support line to call for assistance

Training videos
Be sure to check whether these features listed have an additional cost or are included in the software automatically.

Online Software
Many softwares are now found online, rather than downloaded onto computers. This has been a growing trend for several years, and for good reason!
The Accessibility of Online Software
In many cases for nonprofits, multiple people will be working on the software. Online accessibility, like cloud-based software, allows everyone to collaborate without having to download anything onto their computers.
With an online software, you can say goodbye to long downloads and storage issues. All you need is an internet connection and you are good to go! This goes for any employees or volunteers you give access to. It is a fast and practical way to get the job done.
Automatic Updates
Seeing a message like: "Please download the latest version of the software" becomes a thing of the past with an online software. Most software companies (like Springly) make regular improvements and upgrades to their softwares, and update them automatically.
With this evolving type of software, you will always have access to new features and updated versions without having to lift a finger!
Upgrades are almost always available at no extra cost on online software.

Collaborative
There are very few organizations that are just managed by just a single person. It takes a village, right? That collaborative aspect that you have within your organization should be seen in your software as well.
When you are browsing for a new software, take a close look at how many people are able to access the software and use it together.
If the collaborative aspect is important in the management of your nonprofit, make sure that there is no extra cost depending on the number of users of the software. For example, at Springly, you can authorize access to as many members and administrators as you want, and the price will not change.
Pro Tip: We strongly advise you to avoid using one single administrator account that multiple people share. It can be very risky in terms of data security and confidentiality!

Security
Security is a big issue, as it impacts not only you but everyone who will use and have personal information stored in your software.
As a nonprofit, you most likely collect and store information on your members, donors, community members, and colleagues, especially if you are using a CRM software. It is important to ensure their privacy and security!
Before deciding on a software, take a look at its terms and conditions, as well as security processes. Usually, there is a page dedicated to privacy and security, FAQ's, and contact information to help answer your questions.
Anthony has all the knowledge he needs to
confidently choose the right software for his
nonprofit!


To sum it all up, here are the main points to consider when choosing a software for your nonprofit:
Easy-to-use: The software should not require any particular technical skills. It should be clear and simple to use.

Budget-friendly: With "freemium" models or a trial period, it is easy to decide if the software is the right fit for your nonprofit.

Provide help or support: There should always be a system in place to help you through the software, answer any questions, and fix potential bugs.

Accessible online: Online software is accessible from anywhere, anytime, with regular updates and upgrades.

Collaborative: A software allowing multiple people on your team to have each their own access will allow everyone to work collectively.

Security: It is important to make sure that you are using a safe and secure software to ensure the safety of your data.
You now have all of our advice on how best to choose a software for your organization. We hope it will help you in your decision-making. Feel free to leave a comment in the comment section if you feel there are any criteria we missed!
Springly is trusted by over 15,000 nonprofit's to help them run their organizations on a daily basis. See if it could work for you with a free 30 day trial!